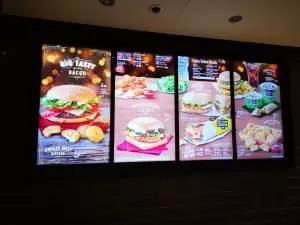 Enhancing your restaurant with digital menus and ordering systems is a smart move. In fact, you'll find that many places within the industry from quick service to sit-down restaurants are integrating digital systems to save money and improve operations. What can these menus do for your business?
Allows Your Business to Become Adaptable to Changes
One example of a restaurant integrating digital menus into its operations successfully is Mooyah Burgers, Fries, & Shakes. This Plano-based chain of fast casual restaurants upgraded their customer experience from an indoor dining focus to adding a drive-thru and curbside pickup in response to the pandemic. Locations use digital menus in their drive-thrus to introduce local specialson the pre-sell board. They also display the full menu at the ordering board.
With these menu boards, they can advertise local specials based on customer preferences at the pre-sell board. Plus, on the order menu, they can quickly add seasonal items or make other changes to the menu.
Easy Advertising
With digital menus inside and outside your restaurant, you can show off your daily specials or other deals that you want to advertise to whet customers' appetites even before they order. You can even integrate video into the digital menus to make the foods more enticing.
Know Exactly What You Want to Use Digital Menus for
One major hurdle for restaurants is upgrading to digital menu displays without a clear strategy of how to use them. Without knowing exactly how you will integrate them into your operations, you will fail to use them effectively, thus wasting time and money. Plan your digital menu use before you order. However, once you know what you want and how you will use it, you can unlock the perks of these adaptable menus that allow you to change your menu offerings quickly.
Connect with Experience Audio Video Inc. for Digital Menus in Your Restaurant
Plan your strategy first. Then, contact our commercial operations at Experience Audio Video Inc. to have your digital displays installed. These menus can boost profits by using them as advertising points. Save money by cutting the time required to change your menus when you make changes or updates to your offerings. With a clear plan and quality digital menus, you can improve your bottom line.
Sources
https://www.digitalsignagetoday.com/blogs/are-digital-menu-boards-right-for-your-business/
https://www.digitalsignagetoday.com/articles/mooyah-burgers-ups-its-game-with-menu-boards/
https://www.digitalsignagetoday.com/articles/digital-menu-boards-on-the-rise-at-qsrs/
https://commercialaudiovideoinstallationorangecounty.com/services/#bar-and-restaurant
https://commercialaudiovideoinstallationorangecounty.com/